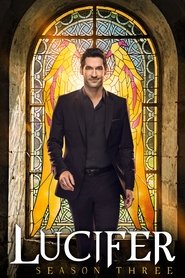 Lucifer Season 3 Episode 11
In a flashback episode that takes place when Lucifer first came to LA, Amenadiel comes to retrieve his fallen brother, but is shocked when he is mugged. Amenadiel enlists Lucifer's help to track down the mugger and Lucifer, in turn, offers his assistance – but only in exchange for a favor. Meanwhile, Chloe and Dan – who are still married – investigate the murder of an MMA fighter, Aidan Scott, at the hands of the same killer who mugged Amenadiel.
Serie: Lucifer
Director: Mark Tonderai
Guest Star: Chris Franco, Chris Mulkey, Devon Alexander, Jason Simpson, John Charles Meyer, Jordan Killik, Julian Haig, L.J. Batinas, Louis Lay, Myrasol Martinez, Paul Chih-Ping Cheng, Raquel Pomplun, Sonia Beeksma, Stephen Adekolu, Taylor Black, Tyler Seiple
Episode Title: City of Angels?
Air Date: 2018-01-01
Year: 2018